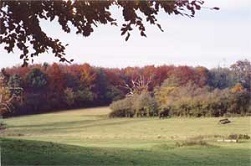 Hertfordshire: "England at its quietest, with little emphasis of river and hill; it is England meditative".

"Perhaps Hertfordshire is scarcely intended for motorists..."

E M Forster Howards End
"So desirable : a bit of hilly ground near a city, where fresh winds may blow and where wild flowers are still found, and where happy people can still walk within reach of their homes."

Octavia Hill (co-founder of the National Trust)
The third annual lecture held in memory of John Hepworth, one of the original founders of the Friends of the Forster Country, was held in the Council Chamber of Daneshill House on Saturday, November 15th. This year John's botanical interest was the focus and Trevor James gave an absorbing talk on the Flora of Hertfordshire which he had produced. Extremely knowledgeable though he is, his presentation was pleasingly informal and his concentration on locations that many of us knew kept our attention. He described the process of compiling a definitive academic work as well as highlighting some of his team's more surprising finds.
Our thanks to Cllr. Simon Speller for sponsoring our use of the Chamber and to Mayor Sherma Batson and her consort for attending yet another of our events.
In spite of its international and local importance, the Forster Country had no sort of protected status and there were continual attempts to build on it. Since 1946, local people have been campaigning to save the Forster Country from development and to preserve it as a vital 'green lung' for north Stevenage. In 1988, John Hepworth (retired geologist) and Margaret Ashby (writer & lecturer)  both of whom had been campaigning to prevent development in the Forster Country, joined forces to form the Friends of the Forster Country (FoFC), with the aim -
"TO PRESERVE FOR ALL TIME THE OPEN GREEN SPACE TO THE NORTH OF STEVENAGE KNOWN AS THE FORSTER COUNTRY."
In the years since we have celebrated Forster Country in many ways.  Every New Year we mark Forster's birthday with a walk.  Every year we aim for a new celebration alongside our AGM.  The Forster Country Walk was opened at one.
When the current series of Newsletters started in 2003, a writer warned us that although Forster Country seemed safe, it could be different if the next twelve years were as bad as the previous twelve.  Forster Country has been threatened during those 12 years and certainly we feel now in 2015 that Forster Country is in a more precarious position than ever.
Please join us now. Don't leave it until too late and bulldozers smash through OUR countryside.
More News Items