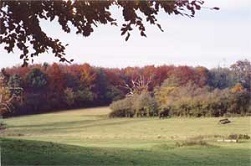 North Hertfordshire District Council have published their Local Plan Preferred Options which were approved at a Council meeting in November.  It proposes many houses on land we consider part of Forster Country, between Stevenage and Graveley.  This as all Green Belt land.
Stevenage have yet to publish their plan but it is likely to include building adjacent to those proposed by NHDC, leaving narrow margins between the new development and neighbours Stevenage and Graveley.

The consultation documents, together with the background studies are available on the NHDC website and can be found at www.north-herts.gov.uk/localplan. Copies of the Local Plan Preferred Options document and the proposals maps will be available in all the libraries in the District and at the Council Offices during their normal opening hours. In addition, copies of the consultation documents will be available at Stevenage Central and Stevenage Old Town libraries.
The Friends of the Forster Country committee have met to consider a response.  Friends of Forster Country who have supplied email addresses should have heard from their committee.  If a member wishes to add their name to the list, please use the Contact Us form or contact an FoFC officer.

All  residents near Forster Country should soon get a leaflet through their door giving pointers to possible objections.

Please consider making an individual reply to this consultation.  If you use our pointers, please use your own words to justify the reasons.  The consultation period for the Local Plan Preferred Options paper will run to Friday 6 February 2015 so please object soon.
On a blustery March morning, shortly after the publication of the last Newsletter, a select group gathered in the grounds of the church of St Andrew and St George, Stevenage, to plant an apple tree. It replaces the one planted in memory of Elizabeth Poston in 2005, during the celebrations we held to mark the centenary of her birth. The date chosen was the anniversary of her death.
More News Items