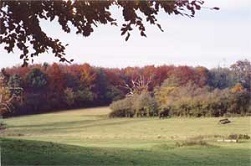 Much has happened since our last Report. As you no doubt know, the Stevenage Local Plan was passed by the Inspector in the Autumn of 2017. Stephen McPartland, Stevenage MP requested Sajid Javid to have the Plan put on hold, pending the possibility of having it called in.
We are now communicating with both Stevenage Borough Council and North Herts District Council. We have held meetings with Stephen McPartland, Stevenage MP, and Stevenage Borough Council (Zayd al Jawad, Head of Planning & Engineering and John Gardner, Deputy Council Leader & Leader for Housing). I believe that our two main hopes now lie with our contention that the local plan examinations are not being conducted correctly and the possibility that the whole Stevenage Plan is called in. As many of you know, we have also objected to the outline planning application by Bellway / Miller to build on Forster Country and have asked local people to do the same in a leaflet distributed to around 1,000 homes.
Our meeting with Stephen McPartland in early January shed light on the situation. He said that he has already done considerable work to prevent the Stevenage Local Plan going forward. He has put it on hold by a request to Sajid Javid. This is quite unusual and it cannot be on hold indefinitely but will be released depending on communications between the Minister and the MP. Being on hold is in a sense better than being called in as nothing can happen in respect of the Plan whilst it is on hold. When it is released from being on hold there is still the possibility of asking for it to be called in which would cause the whole process of devising a plan to start again. He said that any objections to the current planning application should be based on the current Green Belt situation and not as if the Local Plan has been adopted. Petitions are of minimal value as they are treated as one objection, so petitioners are best to act individually.
At the AGM 2016 we launched a new booklet on Forster Country with contributions from some patrons and from our chairman.  The Foreword is by Ronald Blyth, acclaimed rural living writer, best known for Akenfield. There are many illustrations, all but historic ones in colour.  It was edited by our co-founder Margaret Ashby, herself a patron and recently winner of the CPRE Peterkin Award.