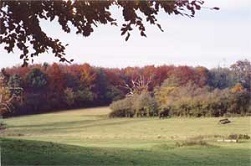 We are delighted that Margaret Ashby, our co-founder has been presented with the Peterkin Award for 2015 by CPRE Hertfordshire.  Margaret with her colleague John Hepworth founded Friends of the Forster Country and has defended the open area for over two decades. We are grateful that this long service to Hertfordshire has been recognised.  The citation and news of other awards is on the CPRE website http://www.cpreherts.org.uk/
The last item relating to local plans was published on the website on 11th August 2015 and dealt with the SBC plan. Since then the responses to the North Herts District Council (NHDC) Plan have been published. The SBC plan remains covered later below but an update on the NHDC plan follows.
We believe that there have been 8,500 responses to the NHDC plan to build around 14,200 houses in North Hertfordshire by the year 2031. These responses are available on the NHDC website although there may be some difficulty accessing them and we are currently in discussion with the Council about this.  Here is a link for Site NS1.
http://web.north-herts.gov.uk/dpdataonline/webpages/acolnetcgi.gov?ACTION=UNWRAP&RIPSESSION=%7B%5B%2A%211C3631312D212F070B6E6671707C6D1A20231E20322B2D070B6E6677747C6D0F233F3D32362B3173631E332C2A1A283A23366F69160711000E1E177816212E3A6A6117152529243D6A6117132D2B361C2A232020372B2F3A2E273B2A2A3D647C0A233520122724391D362237213D24203B32262C2B2032621A3D3B34312B152F3D3437310D0A7C7F77656373707C786B7D1760757262122B3C203B2A2A0705737D6B617D7679737A7660667C%21%2A%5D%7D
The responses for Stevenage North are via the list on the left of that webpage.
We are analysing the responses and we believe that the vast majority are objections. For the section referred to by NHDC specifically as "NS1 North of Stevenage (in Graveley parish)" there were 124 responses and 17 for 'Stevenage North' many of which refer to Forster Country. There were only 3 in support – Stevenage BC and two developers. Most of the neutral comments were from professional bodies.
There are many other sections in the overall document covering other geographical areas and also subjects such as "visions", "economy", "greenbelt" and many more. There have been responses on all of these.
We understand from the proceedings of a meeting attended by one of our Committee that NHDC have been extremely surprised by the strength of feeling against their Plan. They also have an enormous task in grouping and collating the responses and may find it difficult to proceed with a Plan to which so many object.
One alternative that we believe may have been mooted is the possibility of another garden city in North Hertfordshire but that has to remain total speculation at this stage. Of course if that were to happen it would spell the destruction of some other countryside.
The outcome of all of this is that we are cautiously optimistic about the preservation of Forster Country for at least a while.
Turning to the SBC Local Plan, there has been no further development since August. The Friends of the Forster Country response ran to 33 points and was acknowledged as being received by SBC.
The John Hepworth Memorial Lecture will be held on Saturday, November 28th at 2.30 p.m. in the Council Chamber of Daneshill House. The speaker will be Carole Smithies BA MBE and the title of her talk is 'Mountains, Marilyns and Munros – A Lifetime's Passion'. Carole was the first woman member of the Manchester-based Rucksack Club to which John Hepworth belonged for over seventy years.
There is no increase in the ticket price which remains £3. Tickets may be obtained from Angela Hepworth, 1 Gloucester Close, Stevenage, SG1 3RQ; telephone 01438 351462; e-mail This email address is being protected from spambots. You need JavaScript enabled to view it.">This email address is being protected from spambots. You need JavaScript enabled to view it. or from any committee member or purchased at the door on the day
Carols by Elizabeth Poston
                          and Malcolm Williamson

both previous residents of Rooks Nest House
performed by Jubilate Singers and local young musicians.   
Traditional carols for audience participation.

SATURDAY DECEMBER 5TH 2015 3.00pm

ST. NICHOLAS CHURCH,   RECTORY LANE,  STEVENGE SG1 4DA      
ALL WELCOME - TICKETS £5 IN ADVANCE

Email;  This email address is being protected from spambots. You need JavaScript enabled to view it.
In spite of its international and local importance, the Forster Country had no sort of protected status and there were continual attempts to build on it. Since 1946, local people have been campaigning to save the Forster Country from development and to preserve it as a vital 'green lung' for north Stevenage. In 1988, John Hepworth (retired geologist) and Margaret Ashby (writer & lecturer)  both of whom had been campaigning to prevent development in the Forster Country, joined forces to form the Friends of the Forster Country (FoFC), with the aim -
"TO PRESERVE FOR ALL TIME THE OPEN GREEN SPACE TO THE NORTH OF STEVENAGE KNOWN AS THE FORSTER COUNTRY."