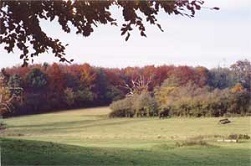 WE WERE RIGHT TO BE WORRIED
We knew this consultation was coming and were worried. We were right to be.  The plans could be worse but not much worse.  SBC are proposing to build on all the land between North Road/ B197, the boundary with Graveley, the drain just east of the low-lying footpath near the cemetery and the existing houses in Granby Road.  If that happens, North Herts have already said they would like to continue suburbia practically to Graveley.
    All the land so threatened is Green Belt but local authorities have the right to hold a review to change Green Belt boundaries.  SBC have assumed they will be able to remove the protective status from Forster Country within Stevenage. Indeed the document states this as a fait accompli!
    We will be contacting all members and distributing leaflets (link below) but we urge you now to find out about this threat.  Look at site HO3 on the map of all the proposals at
http://www.stevenage.gov.uk/149690/planning-policy/90175/154858/
    The main document is at
http://www.stevenage.gov.uk/content/15953/26379/90035/Local-Plan-Draft-January-2016.pdf
    Both these pages can be accessed from
http://www.stevenage.gov.uk/149690/planning-policy/90175/


Responses must be in by Tuesday February 16.
WE URGE YOU TO RESPOND.  THIS PLAN WILL IRREVERSIBLY CHANGE NORTHERN STEVENAGE
The 4th John Hepworth Memorial Lecture was held on Saturday, November 28 in the Council Chamber of Daneshill House. Carole Smithies BA OBE spoke of her lifetime passion for high places. Carole lives near Leeds and was the first woman member of the Manchester-based Rucksack Club to which John Hepworth belonged for over seventy years.
Her talk included many facts about mountains, the history of epic climbs, early explorers and attitudes to them as well as personal tales of daring in Britain and abroad. She did focus on the Munros. These are mountains in Scotland which are over 3000 feet in height (now, ridiculously, 914.4 metres.) She was the 21st female to 'bag' them and ranks Number 192 in the famous Munro Tables.


We heard of the fear and discomfort involved in walking, climbing, cycling, skiing and paragliding in the hills as well as the sense of achievement and the camaraderie.
The lecture was accompanied by many stunning, and some rare, photographs, projected ably by Jim Callaghan.
We thank Cllr. Simon Speller for his sponsorship of this event and the Council for allowing us to use their superb venue, including the Ingleheim Room where we gathered for refreshments.
The Peterkin Award for a Rural Living Champion is presented annually to an adult who has made an outstanding contribution to rural living in Hertfordshire. This year there were six nominations. We are very pleased to announce that Margaret Ashby (co-founder of FOFC and currently a patron) was given this award at the 2015 CPRE Rural        Living Awards Evening at County Hall, Hertford, on 20th October. http://www.cpreherts.org.uk/  
Margaret was recognised for "her determination and dedication in ensuring the protection of a precious area of Green Belt known as Forster Country" for over thirty years. The judges' citation went on to say that "it is very unlikely that, without Margaret's energy and enthusiasm, this piece of countryside would still be undeveloped."
More News Items