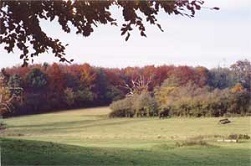 We last reported in April on the Stevenage Local Plan. Since then the main development has been the publication on 12th June 2017 by Stevenage Borough Council (SBC) of amended documentation. The amendments have arisen following the Hearings which took place between January and March 2017. We have until 24th July 2017 to return comments to SBC relating to these amendments. This documentation is available on the SBC website. At first sight the amendments appear to be fairly minor but the FoFC Committee will be reviewing them and returning comments as appropriate. We would urge you to do the same. Below is a link that can be used to access the main revised SBC Plan but there are other similar links for example for the Sustainability Report and for other documents. 
http://stevenage-consult.limehouse.co.uk/portal/ppolicy/local_plan/stevenage_borough_local_plan_proposed_main_modifications
At the AGM we launched a new booklet on Forster Country with contributions from some patrons and from our chairman.  The Foreword is by Ronald Blyth, acclaimed rural living writer, best known for Akenfield. There are many illustrations, all but historic ones in colour.  It was edited by our co-founder Margaret Ashby, herself a patron and recently winner of the CPRE Peterkin Award.
More News Items