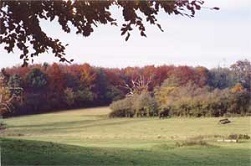 Stevenage Borough Local Plan Revised Housing Targets Consultation has been released and we are dismayed, although not surprised, to find that Forster Country has been identified as part of the Council's preferred option for house building. If this development is chosen, North Herts District Council will build on the adjacent land in effect linking Stevenage and the village of Gravely and obliterating most of Forster Country. A small patch of land has been identified by the... Borough Council as Forster Country and this will be preserved, although surrounded by housing.
If this development goes ahead we will lose an important literary landscape, wildlife habitat, valuable farmland and all the health
benefits which access to greenbelt provides.
The Consultation which may be viewed
online at: http://stevenage-consult.limehouse.co.uk/…/local_…/lpconsult
Please will you respond to the Consultation by *_27th July 2015_*** and help us to save Forster Country.
At a Forster Country committee meeting to discuss our response, we questioned:
- the housing figures quoted, (the last census showed that previous estimates of population growth in the town had been too low, but continual building in the town would inevitably increase the population)
- the need for Stevenage to continue to grow - why?
- the need for Stevenage to take their "fair share" of housing, (as a new town, Stevenage has been taking more than its fair share for decades).
- houses for Stevenage residents/affordable and council housing
- rolling back the greenbelt  (where to?)
- are these the "exceptional circumstances" which are required in order to build on greenbelt?
Nikki Hamilton has started a petition on change.org to save the Greenbelt north of Stevenage. This is a great opportunity to send a strong message to North Herts District and Stevenage Borough Councils, but we need hundreds, if not thousands of names. Please sign the petition and send it to family, friends and anyone else you think may be interested in saving our Greenbelt. To sign the petition, please go to:
https://www.change.org/p/nhdc-save-our-greenbelt-north-of-stevenage
We have said much about the plans for our countryside as envisaged by the local authorities. This rightly has focussed mainly on Forster Country itself along with a slightly wider but still limited area. We have talked about green belt, brown field sites, infrastructure, literary heritage, loss of our green lung, coalescence of towns and many other pertinent factors.
However, I would like to concentrate for a few paragraphs on the first item of our January response to the NHDC proposals. This commented on the proposed overall numbers of new dwellings and the purpose of the new dwellings. The overall plan for North Hertfordshire (NH) is for 14,200 new dwellings (say 43,000 people) and we believe that for Forster Country (NH plus Stevenage) the figure could be around 8,000 people.
The Annual General Meeting of the Friends of the Forster Country will take place this year at 2.30 p.m. on Saturday, August 22nd in St. Nicholas Church, Rectory Lane, Stevenage SG1 4DA.
After the business meeting there will be a tour of the church, led by Committee Member June Pitcher, who wrote the current guide book, and, hopefully, a short organ recital, followed by tea and cake in the Parish Room.
We hope to see many of you there. Parking is available outside the church and further along the road to the south.
In spite of its international and local importance, the Forster Country had no sort of protected status and there were continual attempts to build on it. Since 1946, local people have been campaigning to save the Forster Country from development and to preserve it as a vital 'green lung' for north Stevenage. In 1988, John Hepworth (retired geologist) and Margaret Ashby (writer & lecturer)  both of whom had been campaigning to prevent development in the Forster Country, joined forces to form the Friends of the Forster Country (FoFC), with the aim -
"TO PRESERVE FOR ALL TIME THE OPEN GREEN SPACE TO THE NORTH OF STEVENAGE KNOWN AS THE FORSTER COUNTRY."