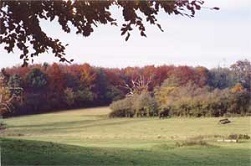 Because of Covid restrictions we are unable to lead our usual E M Forster birthday walk on New Year's Day. However, members of the committee will be going for an informal stroll through Forster country soon after 2pm and we hope that we can see you to wave or greet at a distance.
Meanwhile we hope you can enjoy your Christmas and at least speak to loved ones, if necessary by phone.
PS The weather was not the worst we've ever had but it did not encourage many of you to come or for me to take a photo.  Shame it was not as in this photo.
Stevenage BC Planning Committee voted on 8th December 2020, to pass the Outline Planning Application to build 800 homes on Forster Country. The voting was reliably reported as 7 for, 5 against, 1 abstention.  The meeting can still be viewed on YouTube -  https://www.youtube.com/user/SBCComms/featured but it was long. Our item started just after 1.12 h/min and continued on to 3.22 h/min (youtube time)
We need to decide where we go from here. The developer has to apply for detailed planning approval now.
It has been said of the musician, Peter Warlock (nom de plume for Philip Heseltine) that he could not be understood if the girls in his life were 'indicated only in the most shadowy way'.  By the same token, we cannot fully understand Elizabeth without knowing more of her relationship with her friends, including the men in her life, particularly Phil, as she called him, around whom there had long been an atmosphere of mystery which Elizabeth herself had helped to maintain, consistently refusing, when asked, to talk about it in any detail.
 At the time of her death, no correspondence between them was forthcoming and it was assumed that any such had been included in the material destroyed, at her instruction, by her nephew Jim Poston.  Nothing between them was included within the collected letters of Peter Warlock published in 2005, although a short portion of one from Elizabeth to Warlock's mother, written in February 1931 following his suicide the previous December showed that she had known him very well and that he was 'fine & generous & great-hearted & all love & admiration for him only grow greater'.