At a time when the destruction of virtually all the Green Belt Forster Country seems almost inevitable, it is good to realise that its cultural heritage is bound to live on and, in the case of its heritage of music, to be aware of several happenings this year that prove the point. 
The first is an exhibition organised by the Royal Academy of Music Museum, Hitting the Right Note to highlight the achievements of around twenty five of its amazing female alumnae from its earliest years through to today which will, of course, include Elizabeth Poston.  Featured will be a biography and photographs of Elizabeth, facsimiles of her handwritten scores and, hopefully, items to do with the musical codes she used in wartime BBC broadcasts which are being sought from the Polish Underground Movement Study Trust. It opens on 29 June and will continue until 18 April 2019; opening times of the Museum in Marylebone Road are 11.30 am – 5.50pm Monday to Friday and 12 – 4 pm on Saturday but closed on Sundays and Bank holidays and the whole month of December. 
Then, in the Autumn, some of her many songs are to be performed at two concerts.  The first arises from Elizabeth's friendship with the cellist/composer William Busch which started in 1942 when she was at the BBC and he had thanked her for her performance, with singer René Soames, of one of his songs, Rest, a song whose fine quality she very much appreciated.  Musically they were on the same wavelength and kept up a vigorous correspondence until his untimely death in 1945, at one point agreeing to each set the poem Snowdrops in the Wind.  The concert celebrating William Busch's Life and Times will take place on Saturday 20 October at 2.00 pm at The Hinde Street Church in Marylebone and the singer will be the mezzo-soprano, Diana Moore, well known as a leading exponent of English music.
Diana is also known for shining the spotlight on female composers, in which role she proposes another programme in November featuring Elizabeth as one of five or six chosen. As well as singing her songs, she will focus on 'Elizabeth's life and achievements in the field of music, her support of composers, and her impact on women in music going forward.' It is likely that we will hear both versions of her Sweet Suffolk Owl.
The other development, now that Elizabeth Poston's archives of private papers and music have been made available and safely deposited at the Hertfordshire Public Records Office and the British Library, respectively, has been the production of a catalogue of her compositions, including, particularly, unpublished material which might otherwise be unknown or forgotten.  Many people have heard of her Jesus Christ the Apple Tree without realising that she wrote or arranged nearly 1000 works!  The catalogue runs to over 57,000 words about half of which deal in detail with her connections with both the music and her many musician friends associated with it.  It will be available in a few weeks time when details will be posted in on my website, johnsalabaster.com.  
Written by

John Alabaster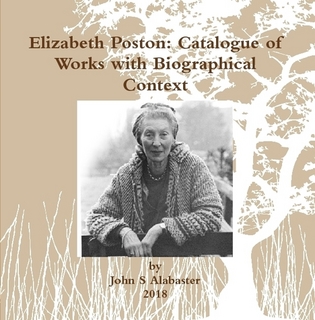 After a decade of work on the Poston papers, John Alabaster has produced a glossy book encapsulating much of the previous works. As the title suggests, it is a full list of works published or not, set in a biographical context.  Though more expensive than earlier subsidised works, it is for anyone interested in her or neglected female composers of her era. It is available at Lulu.com page http://www.lulu.com/shop/john-alabaster/elizabeth-poston-catalogue-of-works-with-biographical-context/paperback/product-23663053.html#expand_text
Written by

Anne Conchie
This year marks 50 years since the decriminalisation of homosexuality in this country and the anniversary has been celebrated widely in the media and in the gay community. We cannot let this pass without wondering what difference this would have made to E M Forster's life and work.
Forced to conceal his sexuality in his conventional, middle-class family and judgmental society, his literary expression may also have been repressed. 'Maurice', his only attempt to write about same sex love, was written in 1914 but only published posthumously, in 1971.  Apparently this was his wish.
Said to be modest and retiring by nature, he would not have wanted to upset or even outrage; he evidently lacked the audacity of the Bloomsbury circle with whom he was friendly or maybe was more philosophical about his situation.
His last novel 'A Passage to India' was published in 1924, when he was 45, and for the rest of his life - he died aged 92 in 1970 - he produced non-fiction and made broadcasts. He maintained a high reputation, was nicknamed the 'holy man of letters', but despite this was not awarded a Nobel Prize for Literature. Perhaps he would have been had his imagination not been fettered by the law of the land. What did he think when it was reformed three years before he died? Did he even care?
Written by

Angela Hepworth
Among the works missing from Elizabeth Poston's archive of music that was left at Rooks Nest House, after she died in 1987, was her Concertino da Camera on a Theme of Martin Peerson, written for early instruments in 1957 and based on a transcription by her friend, Marylin Wailes; all that could be found among her papers was a single MS title-page.  The work, described by a critic as new wine poured successfully into old bottles, had been dedicated to Marylin and her London Consort of ancient instruments.
Elizabeth thought that Marylin's copy of her music was the only one in existence when, in August 1985, she asked for its return in order to add it to her 'National Archive', explaining, 'I am trying very hard to put together writing I count of any value & leave it tidily while I am still alive & not forgetting or gaga!'   There is no evidence that the music was actually returned before Elizabeth died but a copy (perhaps Marylin's) did, at some time, get into the possession of Faber Music and, in January 1968, was passed on to David Munrow, the well-known enthusiast for early music and ancient musical instruments.  After Munrow's untimely death in 1976 that copy was given by his widow to the virtuoso recorder player, John Turner.  He, finally, with the kind permission of the copyright-holder, Simon Campion, has now had it published by Peacock Press, (PJT 201) and a copy has been safely deposited at the British Library with the rest of Elizabeth's extant manuscripts. He has also recorded the work on the Prima Facie label (PFCD 005) with Richard Simpson (oboe d'amore), Richard Tunniclife (viola d'amore) and Ian Thompson (harpsichord).  
The piece has the unique position of being the particular one Elizabeth chose when asked to lecture on the subject of composition; now that the music has been found and printed we can follow more clearly what she described with such enthusiasm.  
John Alabaster
The writer Edward Morgan Forster lived at Rooks Nest House from 1883 to 1893, from the ages of 4 to 14. In later life he returned there often, as the guest of composer Elizabeth Poston. 
His novel Howards End was inspired by his childhood home and its surrounding countryside. Forster's writing is studied in schools, colleges and universities throughout the world.   His work is concerned with themes that are still current today, including:-  
human relationships,
conflicts of loyalty               
the need for connection between apparent opposites such as commerce and culture, poetry and prose,                      
He is constantly quoted in newspapers and has the distinction that one of his short stories is available in full on the Internet.
Written by

M.M. Ashby